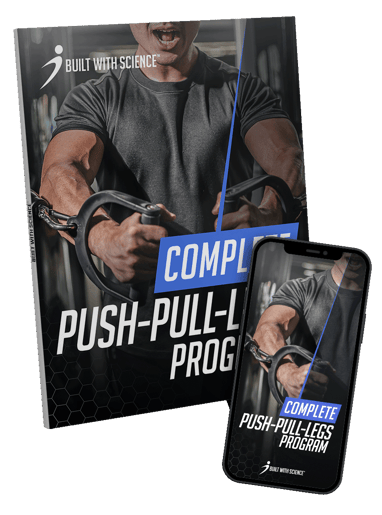 Complete Push Pull Legs Program
Sale price
$19.00
Regular price
$34.95
Complete Push Pull Legs Program
Sale price
$19.00
Regular price
$34.95
THE PUSH PULL LEGS PROGRAM
Build A Proportionate, Muscular Physique With Our Complete Push Pull Legs Program
Learn step-by-step how you can start gaining muscle and strength in just 8 weeks. Reliably and without gimmicks. 
Here's exactly what you'll get when you take advantage of this offer today:
✔️Complete Science-Based Workout Routine -We've turned your 3 workouts into 6 to help add volume, drive muscle more muscle growth, stimulate every single muscle, and avoid any overuse injury.


✔️Custom Workout Tracker - to easily track your workouts and see your progress blow through the roof.


✔️Muscle Activation Exercise Video Tutorials so you can have full confidence that you're activating the right muscles and preventing yourself from injury.

✔️ Exercise Alternatives - Have a nagging injury or equipment limitation? We have 3 exercise alternatives ranked from best to worst for every single exercise in your program.


✔️ Personalized Progression Guide - You'll know exactly how, when, and why to increase weight and reps so you can continue to see muscle growth and strength.


✔️ Nutrition Guidance & Diet Hacks - We'll help you make the right food choices, understand meal frequency and timing, and how to approach cheat meals and eating out so that you can still stay on track.


✔️Mobility Routine to improve any muscle imbalances and get better posture.


✔️ Abs Routine - a one-of-a-kind routine to help you build your abs like nothing else.


✔️ Cardio Routine so you can stay fit while building muscle. And don't worry these aren't your typical gruelling cardio sessions, these are ones you can actually enjoy.
All backed by a 30-Day Money Back Guarantee. If you don't see results in your first 30 days, simply send us an email and we'll issue you a full refund. No strings attached.
But just don't take our word for it, take a look at some of the transformations our members have using our science-based programs: